#soontoberdh
#1 Choice
NBDHE VIP Package
Your success story starts here!🌈🏆
be on the winning team
Did you know that the
NBDHE pass rate is 85%?

StudentRDH pass rate is 99%!
Don't hesitate
It is the best NBDHE Review you can get!
Hear it directly from our previous users.
Why Settle? Go VIP for Comprehensive
NBDHE Review Support!
Get all the help you need in one place.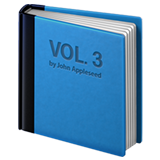 Immediate Book Shipment
Receive your trademarked checklist-style book instantly for organized and stress-free learning.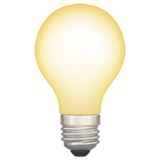 Quality Practice & Mock Exams
Engage with top-tier practice questions and mock exams, covering all essential aspects.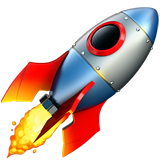 LIVE Zoom Summit
Experience 10 dynamic, live sessions with our approachable experts to elevate your confidence and comprehension.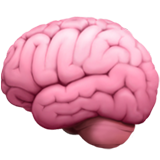 Exclusive WakeUpMemory™
Access over 500 unique memory techniques that make learning stick - only available at StudentRDH!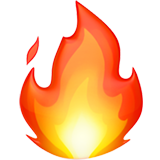 VIP Exclusive Benefits
Dive into specialized workshops, updated guideline webinars, group tutoring, and more, solely with the VIP package!
Everything is included in your VIP package!
NBDHE Book + Top 150 Drugs Booklet

📚
Condensed straight-to-the-point information:
We've removed all the unnecessary fluff, so you can stay laser-focused on just what you need to know.


🗒️
Organized study and note taking:
U
se our checkmark system to maximize efficiency and make notes on the side.
❓
Extra quizzes:
Test your knowledge with our end-of-chapter quizzes to ensure you've truly mastered the subject matter.
🚀
Top 150 drugs to master pharmacology:
Pharmacology is one of the most important and challenging topics, so we put extra emphasis on mastering this topic.
On-Demand Review
🌟
Quiz-centric review:
5000+ questions
to master every topic covered on the NBDHE.
🧠

Quizzes for all levels:
W
e put 1000+ hours of work into re-creating the best practice questions, whether you want to test
knowledge
, application,
or
critical thinking.
💡
Mock examinations:
P
ractice with a 350, 8-hour exam to simulate the real thing.
📱
Study on-the-go with our online platform and app:
Seamlessly integrate studying into your busy schedule and learn wherever you are!
Summit Recordings + LIVE

2024 Dates:

January 2, 3, 4, 5
March 9, 10, 16, 17
🖥️
Join our 10 LIVE-online sessions
:
Includes case studies, workbooks, and answer keys, plus a LIVE Q&A. Our structured approach ensures that you master case studies effectively.
🚀
Access 2023 recordings:
If you want to get started right away and not wait for the live sessions, you can start immediately!
📚
Topics covered
:
Head and neck anatomy, oral pathology, instrumentation + infection control, periodontology, dental hygiene process of care, radiology, medical conditions + special needs, community + research principles, and pharmacology.
VIP Exclusive
🌟
Memory Techniques Workshops:
4X Your memory with Claire.
🎥
Case Study Workshops:
Get the case study framework and practice with our faculties.
💡
Study Techniques Webinars:
Time management, note taking, etc.
🔄
Test-Taking Skills Webinar
:
5 Tips to maximize your score.
🚀
NBDHE Updates:
We keep you updated with the latest info.
💊
Top 150 Drugs Quiz:
500 Qs + WakeUpMemory™.
💡
Post-Assessment:
17 Chapters + 400 questions to know if you are ready to take the NBDHE.
Only With the VIP Package!
Don't hesitate
Maximize your winter break!
Summit LIVE via Zoom
NBDHE mastery


January 2, 2024

How to Crush Your Case Studies & Other Tricky Questions
7-8 am PT | 9-10 am CT | 10am -11 pm ET

Process of Care
8:30 - 10:30 am PT | 10:30 am - 12:30 pm CT | 11:30 am - 1:30 pm ET

Head and Neck and Dental Anatomy
11 am - 1 pm PT | 1-3 pm CT | 2-4 pm ET


January 3, 2024

Pharmacology
7-9:30 am PT | 9-11:30 am CT | 10 am -12:30 pm ET


Instrumentation and Infection Control
10 am - 12 pm PT | 12-2 pm CT | 1-3 pm ET


January 4, 2024

Radiology
7-9 am PT | 9-11 am CT | 10 am -12 pm ET

Periodontology
9:30-11:30 am PT | 11:30 am - 1:30 pm CT | 12:30-2:30 pm ET

Oral Pathology
12-2 pm PT | 2-4 pm CT | 3-5 pm ET


January 5, 2024

Medical Conditions/Emergencies
7-9:30 am PT | 9-11:30 am CT | 10 am -12:30 pm ET

Community Dentistry & Research Principles
10 am - 12 pm PT | 12-2 pm CT | 1-3 pm ET


Speakers:

Claire Jeong, RDH, BS, MS
Melody Wright, RDH, BS
Lisa Mayo, RDH, BSDH, MHA
Dana Paladino, RDH, BS, MS


We put 1000+ hours of work to give you the best
NEW! Amazing Benefits to You!
500+ Drugs Practice Questions + WakeUpMemory™
✨ Pharmacology: Master one of the most difficult subjects.

🚀 Fast Learning: 500+ Drugs practice questions.

🧠 WakeUpMemory™: 500+ Memory tips.

💊 Generic and brand names + Use + Side effects

📱 Use your phone APP
📖 Top 150 Drugs 500 Question Quiz -
Only with the VIP Package!
The Secret Mastering Critical Thinking and Case Studies
🌟 Level 1, 2, 3 Quizzes: Easy, moderate, and difficult questions.

💡 Case Study Style: Challenge yourself, see results!

🔄 Detailed explanation: You're learning 4X.

🚀 Keywords: We teach you how to find the hints.


Included in the VIP Package!
\Learnworlds\Codeneurons\Pages\ZoneRenderers\CourseCards
30,000+ success stories, that could be YOU!
In person Review or StudentRDH? StudentRDH was really helpful because you can go at your own pace and focus on the topics you need help on. In-person review was more overwhelming than helpful. I got really stressed. I really recommend StudentRDH to anyone!
- Kimberly Cook
Northern Arizona University
StudentRDH has all the information you need for the boards but it is concise and easy to read and Claire does a great job at giving you tips to help you memorize everything.
- Olivia Blackley
Passed the boards with StudentRDH!
Honestly StudentRDH is the perfect review for your boards! I used other resources but I felt StudentRDH was definitely the most helpful. Claire is so good at making sure you are 100% satisfied.
-Kassidy Christensen
Weber State University, UT
Why Settle? Go VIP for Comprehensive
NBDHE Review Support!
Get all the help you need in one place.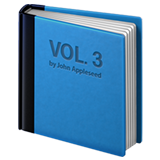 Immediate Book Shipment
Receive your trademarked checklist-style book instantly for organized and stress-free learning.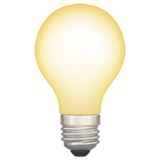 Quality Practice & Mock Exams
Engage with top-tier practice questions and mock exams, covering all essential aspects.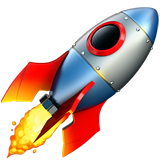 LIVE Zoom Summit
Experience 10 dynamic, live sessions with our approachable experts to elevate your confidence and comprehension.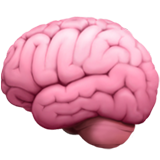 Exclusive WakeUpMemory™
Access over 500 unique memory techniques that make learning stick - only available at StudentRDH!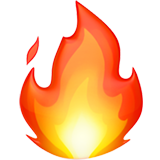 VIP Exclusive Benefits
Dive into specialized workshops, updated guideline webinars, group tutoring, and more, solely with the VIP package!
We Guarantee You 4X Benefits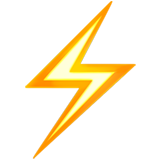 Faster
Learning
🎥 Organized Videos
✅ Checkmark Style Book
📚 Practice Questions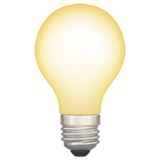 Better Retention

🚀 Boost Memory Retention with 500+ 🧠 WakeUpMemory™ Techniques!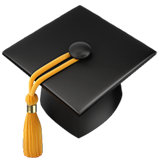 Case Study Focused
🎯 Mock Exams with Full Case Studies 📚
3️⃣ Leveled Questions! 🚀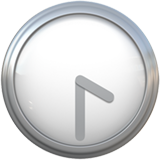 Learning Anytime
🎥 Everything is Recorded!
🌐 LIVE Webinars on Zoom
🔄 Unlimited Extensions!
"I recommend StudentRDH to everyone"
I really liked the
memory techniques
, they help you retain information much better.
I
recommend
StudentRDH to everyone in DH school; Claire makes it
really fun;
it didn't feel like homework
!
She was able to explain things thoroughly, and she
helps you with any questions you have
.
StudentRDH Has Everything You Need To Pass The Boards
Choose the best in online board reviews for a learning experience that's both
enjoyable and highly effective.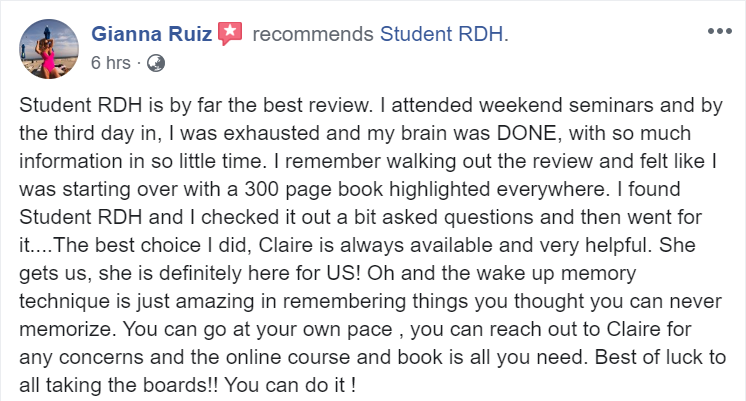 Don't know where to start?
The VIP package has everything for you.
StudentRDH has carefully created a suggested sequence that you can easily follow to study for the NBDHE.
It is a simple 3-step process. NOTE: Other board reviews do NOT have all the steps we have!

Step 1: Make a personalized plan

Get organized. Discover your strengths and weaknesses using student RDH special pre-assessment. It is like periodontal probing! With all your data, make a plan. We have a study planner that you can fill out.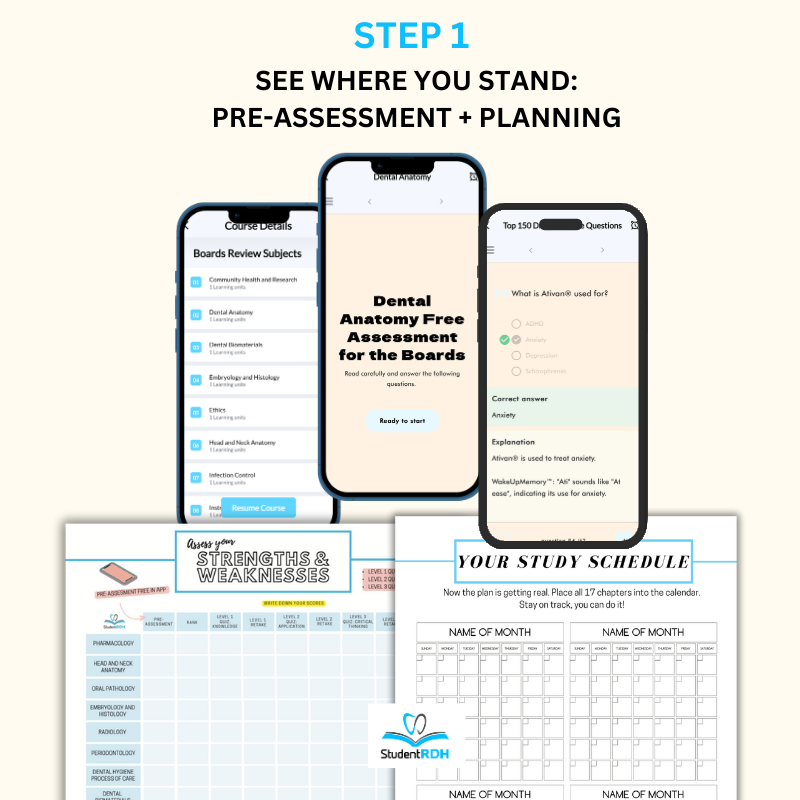 Step 2: Roll up your sleeves and study
It's time for you to study, one chapter at a time, following the plan you created. StudentRDH has everything you need: recorded videos, case study style practice questions, book shipped to you, and special webinars for our VIP members.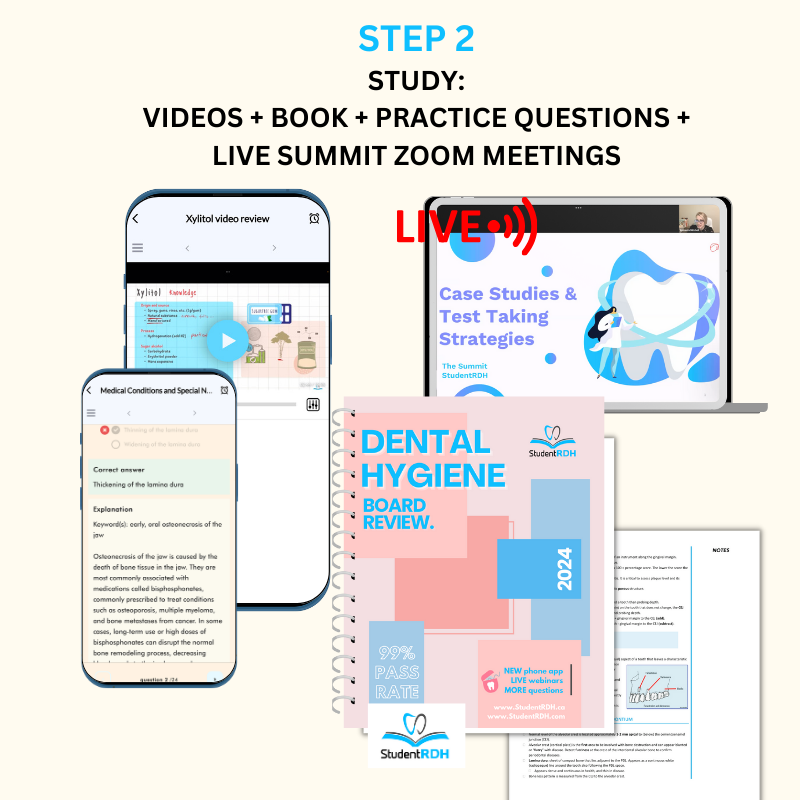 Step 3: See if you are ready to take the NBDHE
Don't try to guess. Take StudentRDH post-assessment and mock exams. See how you are scoring. If you are not scoring as well as you would like to, take the time to review again. If you are scoring well, that means you are ready! Go to the exam and pass with confidence.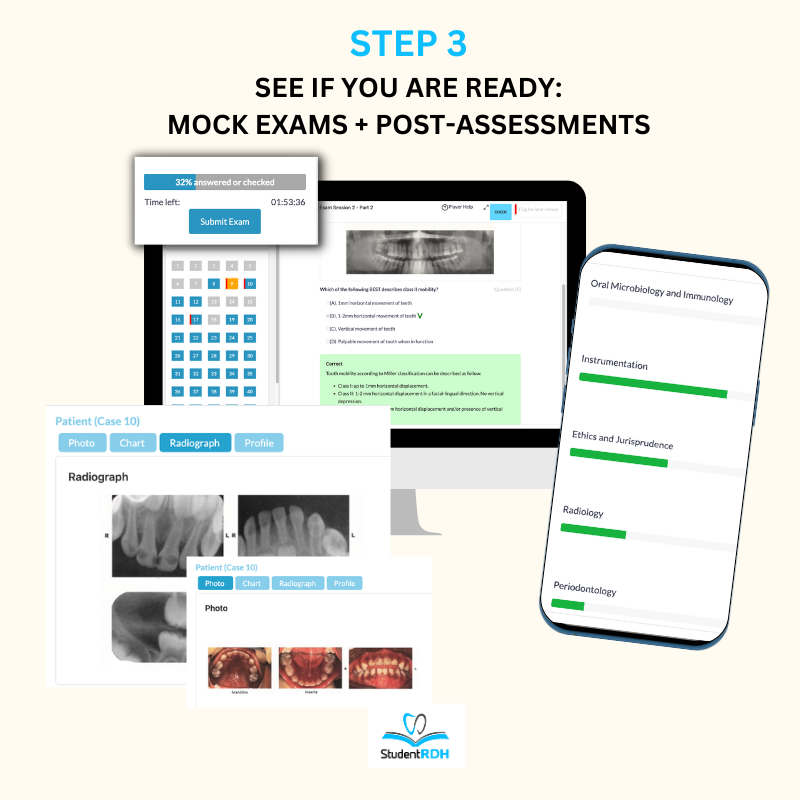 PASS!!!
All your hard work will pay off. You will pass the NBDHE using StudentRDH, with flying colors.
Don't hesitate
NBDHE Review
Are you ready to dive in?
WakeUp Memory™ techniques were hands down what helped me the most
They were fun and super helpful! I have severe test anxiety but StudentRDH gave me a sense of peace, I felt confident and I knew I was going to dominate the board exam. 100% I will always recommend StudentRDH.

- Brianna Underwood, Mt Hood Community College

Why 99% of Our Students Succeed
I passed the Nationals on the first try thanks to StudentRDH. When I took the Nationals, I felt a sense of peace because I knew a lot of the questions. I was never really a great test taker but after using StudentRDH I felt very comfortable.
- Deidra RussellI
passed the NBDHE!
The most important thing that StudentRDH helped me with was the memory techniques that Claire had, I really recommend StudentRDH to anyone who needs something to study for the boards, I don't think I would have passed without it. It paid off!
- Amber Johnson
Fox College, Illinois.
I had to retake my boards after practising for 28 years. Claire and her team were super helpful, her program is very precise, the mock exams questions are very similar to what I found in the board exam. Memorization tips were helpful, the program is worth every penny!
- Sheri Mitchell
University of New England
Frequently asked questions
💭 Is StudentRDH more expensive than other NBDHE board reviews?
StudentRDH is more attractive than ever! We have packed all the benefits you need for studying. We are even less expensive than some other board reviews. It may be hard to compare Apple to Apple, but we can guarantee you that you get the most organized and comprehensive review at the best price with us.
The VIP Package NBDHE® review includes exclusive
benefits
that you won't find anywhere else:
✔️ Immediate access to all study materials:
Study, take the quiz, or watch the videos with no delay.
✔️ Book shipped within 24h:
Other board reviews ship their books only once a year, so you may have to wait a long time to start studying.
✔️ WakeupMemory™ techniques:
Students rave about the memory tips from Claire, founder of StudentRDH and memory champion. You will get better scores and higher critical thinking.
✔️ Case studies:
We're the only board review that provides separate case study workshops. Half of the exam is case-related, and you will learn all the tricks and tips that will help you become more confident.
✔️ Join ANY Live Summit of your choice,
or all of them.
✔️ FREE Summit recordings.
Unlimited replays.
✔️ Worksheets to print.
Use them to take notes and refresh what you've just learned.
✔️ Excellent support:
Ask us anything. We go above and beyond to answer you.
✔️
99% success rate maintained throughout the years:
StudentRDH has been proven by thousands of testimonials to be the best.
✔️ Always get the latest information:
Our content is constantly updated using the most up-to-date resources. Not every review out there updates its content on a regular basis.
Taking the board exam is one of the most challenging things you'll ever have to go through. And after all the work you've put into dental hygiene school, you can't afford to fail.
But if you do, you get a
FREE extension until you pass
(even if it takes years).
Nobody else gives you this guarantee.
💭 How does StudentRDH compare to an in-person review?
StudentRDH is designed to be used at home or wherever you are. We know it is difficult to find time and money to attend an in-person board review. It gives you maximum flexibility with the best content.
Format: a combination of books, online videos, practice questions, and mock examinations that you can finish using your computer or phone. You are not limited by where you are or when you want to study. You have all the flexibility you need to perform at your best.
Study at home versus in a room with hundreds of other students: it depends on your style. You will succeed If you put in the effort and focus on passing the NBDHE. That said, if you prefer your privacy, a comfortable place to study, and the flexibility to move around when you are studying, StudentRDH is for you. With an in-person review, the noise and large crowd may bother you, and if you're feeling tired, you'll need more flexibility to stand up for coffee or go for a walk. You will lose precious time if you step out of the room.
Quality of content: if you know Claire and her team, you probably understand that they spent all their time and effort creating the best quality content. Recently, StudentRDH has spent 1000+ hours re-creating questions to match the new NBDHE guidelines. More case study-style questions were added, too! You will feel the difference in each question, especially the explanations. StudentRDH also added keywords to each question so you can learn how to find the hints.
💭 What's available ONLY at StudentRDH? Help me choose among different boards review.
StudentRDH offers unparalleled support, content, and organization to help you excel. Here's what sets us apart:
Pre-assessment: Think of it as a dental check-up. Identify your strengths and areas for improvement to tailor your study plan.
Post-assessment: After completing our program, gauge your readiness. Even if you feel unsure, the data might show you're on track. Plus, it's a chance to spot any last-minute areas to focus on before the NBDHE.
Tiered Practice Questions: Our Level 1, 2, and 3 questions guide you from basic knowledge to critical thinking and case studies. This mirrors the national board exam format, ensuring you get a realistic practice experience.
Challenging Questions: Based on feedback, we've added an advanced set of Level 3 questions to push your limits.
Keyword Highlight: For each question, we pinpoint the essential keywords, training you to think strategically.
Online LIVE SUMMIT: Join our webinars from the comfort of your home. We cover crucial topics for the NBDHE.
LIVE SUMMIT Worksheets: Enjoy our fill-in-the-blank worksheets during or after the webinar. We've got most of the notes covered for you.
Case Study Workshops: VIP members get exclusive access to in-depth case study webinars, arming you with a solid approach for the exam.
Choose StudentRDH for a comprehensive and strategic study experience!
💭 What's the LIVE SUMMIT?
StudentRDH LIVE SUMMIT is a series of 10 webinars delivered via Zoom.
The next dates are in January 2024 and March 2024.
You will be given a 4-day schedule.
There will be four speakers, and we will cover subjects directly related to the NDBHE. Everything is recorded, so if you cannot attend the live summit or have to take a break, don't worry. You will be able to watch the recording any time after the session.
💭 Should I get the VIP package?
Generally, we recommend students to purchase the VIP package.
You don't have to feel like you're missing out. You get everything you need to pass the NDBHE: a book + SUMMIT + Online review.
It is at a 50% discount compared to getting all the different components separately.
VIP exclusive content: for our VIP members, we offer webinars and updates that you cannot find anywhere else. For example, we have updated the NBDHE according to the new guidelines, exclusive to VIP members only. Also, there will be study sessions, such as case study workshops, that will only be available to VIP members.
If you want the best, we recommend the VIP Package.
💭 How long is the membership valid for?
It's 6 months from the date of purchase and you can request a
FREE extension.
💭 If I join now, and the SUMMIT is not until later, what do I get?
The live summit happens 2-3 times a year. And we understand that you may need a different date. Therefore, if you join the live summit program or the VIP package, you will have access to previous recordings of the live summit. You can start studying immediately and join the live summit when it happens.
First of all, let's make sure that does not happen. But life happens, and even the best students sometimes fail the boards. So, we want to be as flexible as possible for you.
We will ask you to share your report. We want to see if there are any pointers we can give you.
You will get our support, even if that means a phone call.
You will have unlimited extensions until you pass. You are required to wait for a few months until you retake your NBDHE boards. Your StudentRDH membership may expire. But don't worry; we will provide you with the needed extension. Just let us know when the new exam date is.
💭 When will I receive the book?
Books are shipped daily! Once we have your address information, an order for shipping will be placed within 24h.

Please allow 7-10 business days for the book to reach you.

💭 Is there a group discount?
Yes! We can arrange a special discount if you are a group of 10 or more students. Email us at
[email protected]
, and we will care for you and your friends.
WakeUpMemory
™
techniques that Claire (Founder of StudentRDH) has created are mnemonics, imagery, etc. Claire is a memory champion, and she will guide you through the fascinating journey of remembering better and being prepared for your national board examinations.
100% of students who have used StudentRDH and our exclusive WakeUpMemory
™
techniques feel more confident with their retention.
Other companies have tried to copy the special sauce we created at StudentRDH. Memory techniques seem easy but teaching them takes a lot of expertise. And we are proud to have taught methods of our origin that have worked for thousands of students.
💭 What are Level 1, 2, and 3 questions?
I am glad that you asked! We spent 1000+ hours redeveloping our entire question bank to meet what you need to pass the NBDHE.
Level 1, 2, and 3 questions are as follows:
Level 1: Knowledge
Level 2: Application
Level 3: Critical thinking/case study
The idea is that you start with the Level 1 questions, then Level 2, then Level 3, to gradually expose you to more challenging questions.
Let's take xylitol as an example.
Level 1: What is xylitol? It is a sugar alcohol with zero calories and does not ferment.
Level 2: How is xylitol helpful with caries management? Xylitol does not ferment like sugar. Therefore, it does not contribute to caries. Also, xylitol has a neutral pH, which helps raise the overall pH of the mouth if it is acidic. Lastly, xylitol promotes saliva, which decreases caries risk.
Level 3: Why is xylitol recommended for patients with diabetes? Unlike sugar, our body cannot process xylitol. Therefore, it does not elevate the blood sugar level. If a patient has diabetes and a high caries risk, it is recommended that they use xylitol.
As you can see, this new system we have created will help you take one concept and tackle it from multiple angles. Your brain will work hard, and you will be ready for the NBDHE.
Lastly, this is also how the national board exam contributors write their questions. So, we are doing everything they do so you can best prepare for the NBDHE boards.
💭 Is that also for Canadian students?
The Canadian national board examination is called the NDHCE or NDHCB. StudentRDH has a separate program at StudentRDH.ca.
On the Canadian program, you will find customized content applicable only to the Canadian examination.
There are quite a few differences:
The format of the examination is different. Therefore, our mock exams also vary. The Canadian mock has 200 questions.
The question styles are different. Consequently, we designed the practice questions to reflect the guidelines.
Pharmacology is different. The drug names, classifications, etc.
There are many more subtle differences. Claire, the founder of StudentRDH, has passed her boards in the US and Canada and is very familiar with both exams.
Not quite ready, but don't want to miss out?
Get our
VITAMINS

: Mini reviews via email (FREE) weekly + Boards' latest updates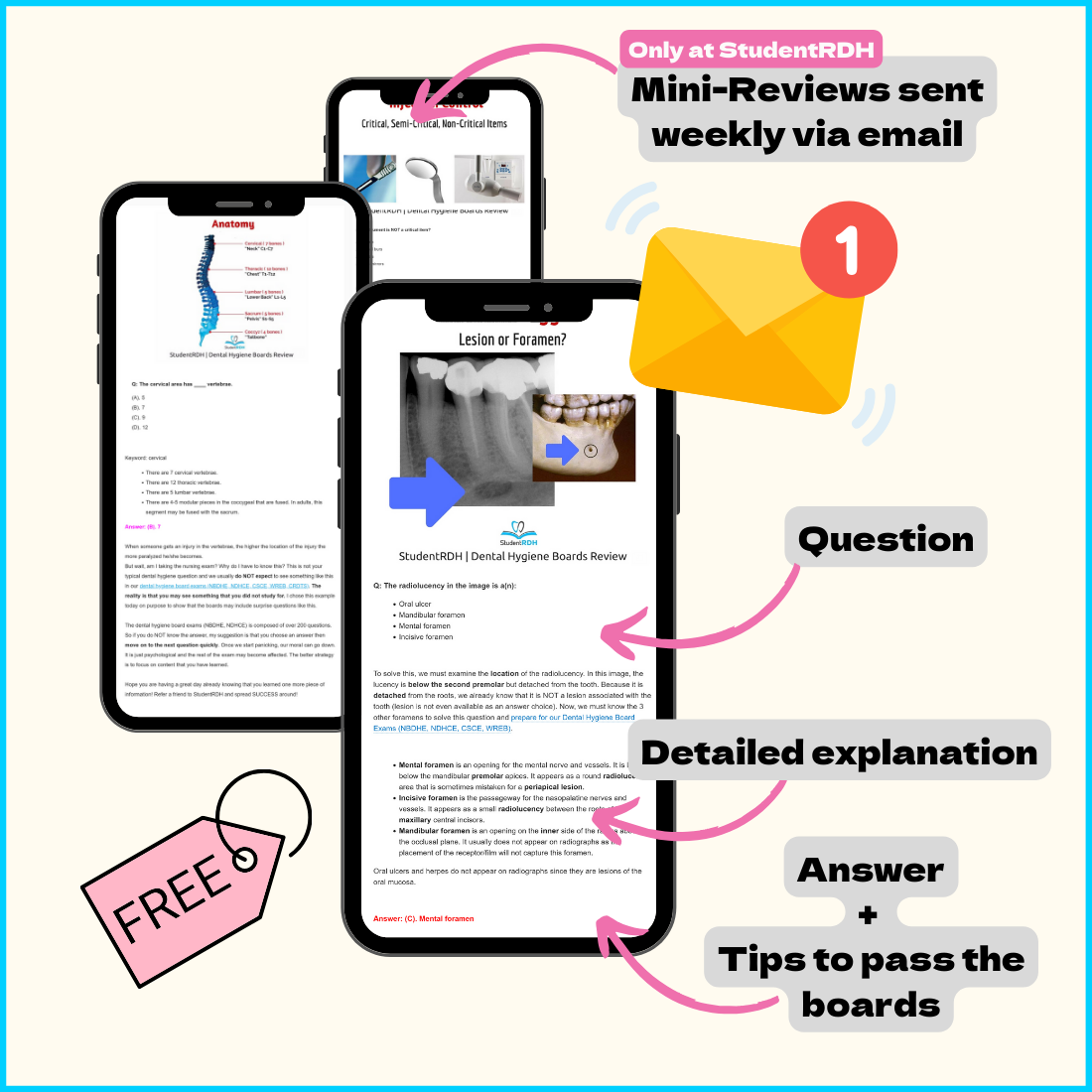 Are you taking the Canadian boards (NDHCE®)?
Sign up through our Canadian website!