#1 Local Anesthesia Boards Review
💥 99% Success Rate!
For the WREB, CSCE, and School Exams
I just took my local anesthesia exam on Monday and I felt like StudentRDH helped tremendously. Now it's time to begin studying for nationals and thank you for the support StudentRDH!
NICOLE VILLANO CAPE COD COMMUNITY COLLEGE, MA
We cover all the topics you need to study
\Learnworlds\Codeneurons\Pages\ZoneRenderers\CourseCards
Our Students Passed the Exam!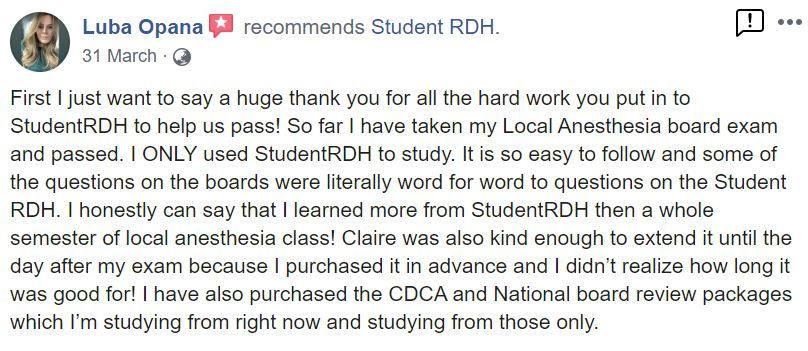 Local Anesthesia Boards Review at
StudentRDH
Everything in one place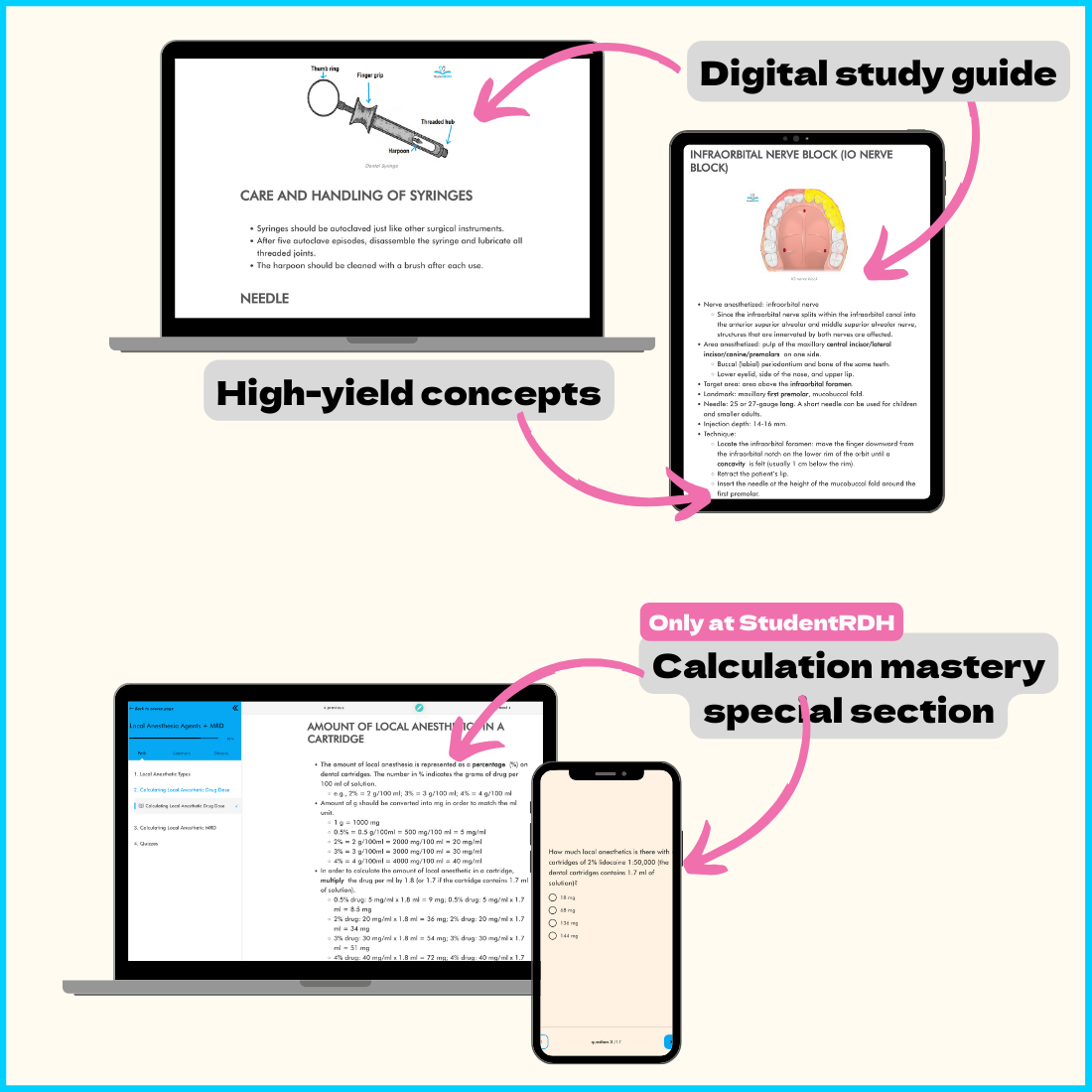 1️⃣ Study Guides 📖
📚 7 Essential Chapters: Covering all must-know content.

🎯 24 Critical Topics: Includes Injection Techniques, MRDs, Vasoconstrictors.

🚀 Straight to the Point: Only what you need to know, no fluff!

*Included in your local anesthesia boards review at StudentRDH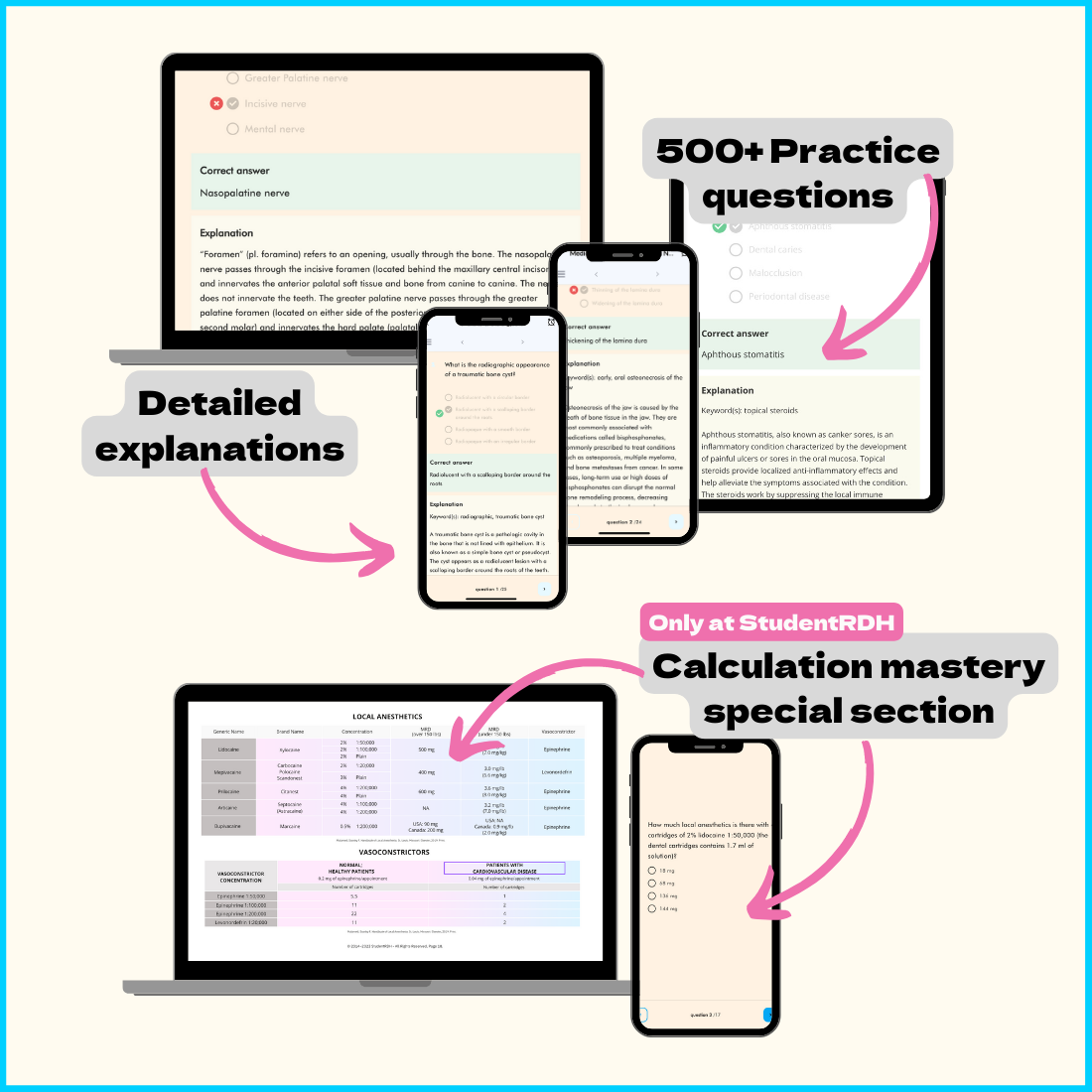 2️⃣ Practice Qs 🗒️
📝 Sample Board Questions: Practice for CDCA® / WREB® / CRDTS® exams.
⚡ Immediate Feedback: Detailed explanations for all answer choices provided.
🧮 50+ Calculation Questions: Sharpen your numerical skills for the exam!

*Included in your local anesthesia boards review at StudentRDH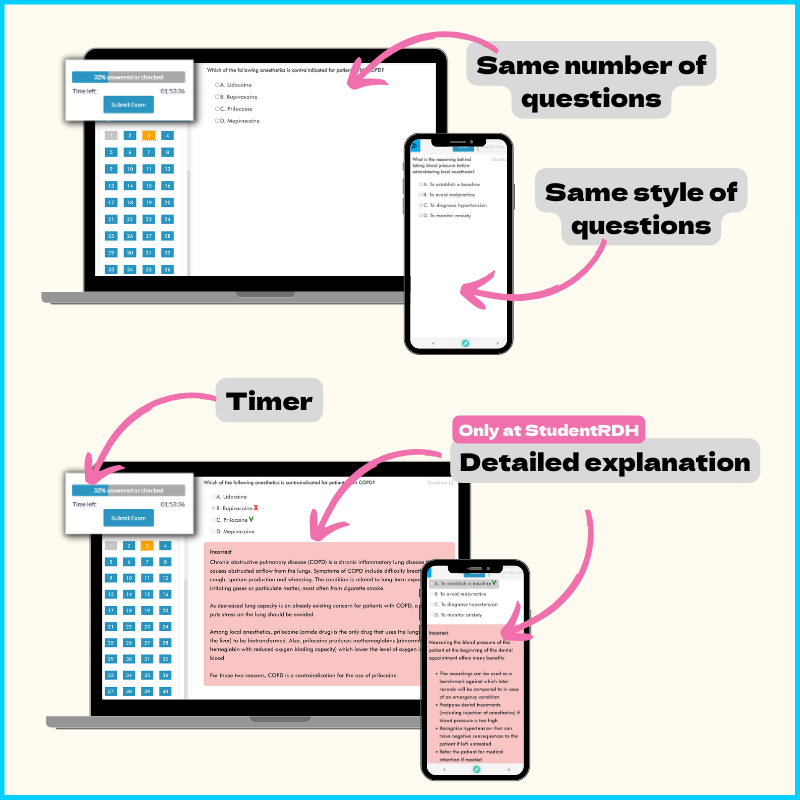 3️⃣ Mock Exams⏳
🚀 Mock Exam Format: Mimicking the CDCA® / WREB® / CRDTS® Exam.

⏰ Countdown Timer: Experience real exam time pressure.

📚 Questions with Timer: Efficient practice for your review!

*Included in your local anesthesia boards review at StudentRDH
Our students love us
Incredibly helpful reviews, I especially loved the Local Anesthesia review, which covered everything! Student RDH was also very understanding of my cancelled exams during COVID and gave me multiple extensions to ensure I was able to study as much as much as possible!
KATIE FREEMAN
I used studentRDH to study for my local anesthesia exam and it was one of the best decisions I've ever made. The study material is easy to understand and remember. It breaks down information very well and the quizzes are great. Love how the mock exam simulates the actual test. The same types of questions even appeared on the actual exam. I would highly recommend this course!
ANTHONY AYERS
StudentRDH saved my butt!! Everything that was included in the information provided was on my local anesthesia written exam. I channeled Claire's wake up memory the whole time and was even inspired to come up with my own wake up memory techniques that helped me so much. I got a 98% on my written anesthesia exam I MISSED ONE QUESTION ONLY!!!! All thanks to StudentRDH
JASNA KADRIć
Everything you need to pass the local anesthesia boards! 🎓💡
🚀 CDCA®/WREB®/CRDTS® Local Anesthesia Boards Review
📘 High-Yield Concepts
📚 24 essential local anesthesia topics 🌟
🎓 Practice Questions
🎯 Immediate-feedback for questions 🚀
🔢 Calculation Mastery
Master 50+ calculation questions 💪🎓
🕵️‍♀️ Mock Exam
⏲️ Timed mock exams of the CDCA®/WREB®/CRDTS® 🎯
🚀 6 Months
🌟 Plenty of time to study for school and local anesthesia board exams 🚀
🏆 Unlimited Extension
🌟 If you need more time to study, we can continue for free 🚀
Is Success Your Goal? If You're in These Categories, You're in the Right Place! ✨
🌈 Destined for Success: If the upcoming CDCA®, CRDTS®, or WREB® exams are on your horizon, and you seek a trustworthy review, you're right where you need to be!

💪 Perhaps you've encountered setbacks, like failing the Local Anesthesia board exam or feeling unsatisfied with other prep materials.

Maybe the anxiety is creeping in, or school exams aren't going as planned.

No worries; we've got you covered with a course meticulously designed for individuals like you, offering clarity, confidence, and a clear path to success! 🚀
Frequently asked questions
How Long Is The Subscription?
✅ The subscription is valid for 6 months
✅ Some students complete StudentRDH review in 1 week, some use StudentRDH for 6 months. It really depends on your study style!
✅ If you need an extension, email us at
[email protected]
and we will work with you directly.
How Much Is The Local Anesthesia Boards Review Package?
✅ The full package is $69!

✅ StudentRDH is the ONLY boards review that gives you everything you need (without re-reading your big local anesthesia textbooks) to pass the boards.
Study With The Best And Pass
The Boards (And Never Look Back)