Exclusive to
StudentRDH!
Clinical Board Exam Details
in partnership with
CDCA-WREB-CITA
Our speaker is Shayna Overfelt, who is the CDCA-WREB-CITA, Director of school programs, so you bet she will give you all the insight you need for the exams!
OSCE/CSCE® Boards Review
🎯 99% Success Rate!
6 month access
StudentRDH was an essential component in my review for the OSCE. The content and format of the material was well organized and easy to understand. I credit StudentRDH for helping me to pass my exam! I would definitely recommend StudentRDH to others!
Sabrina Lopres
Everything you need to pass the OSCE/CSCE exam is here
\Learnworlds\Codeneurons\Pages\ZoneRenderers\CourseCards
Our students loved the review 🚀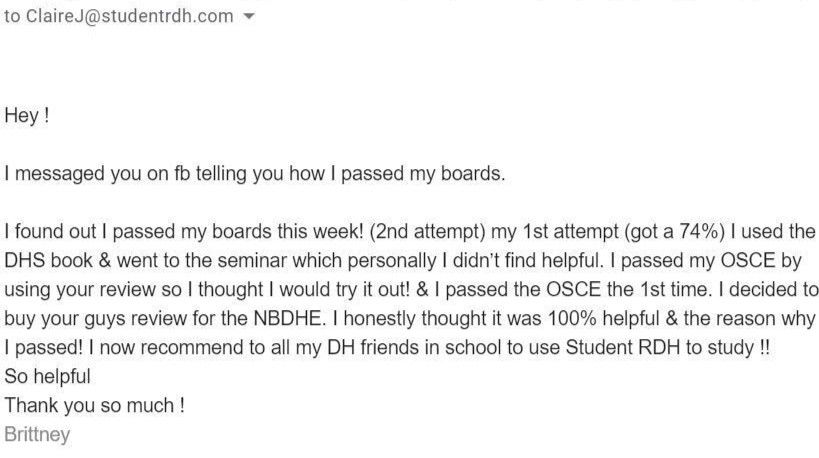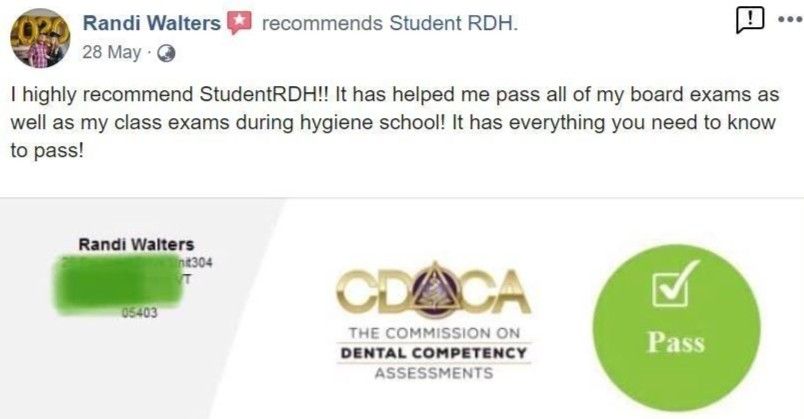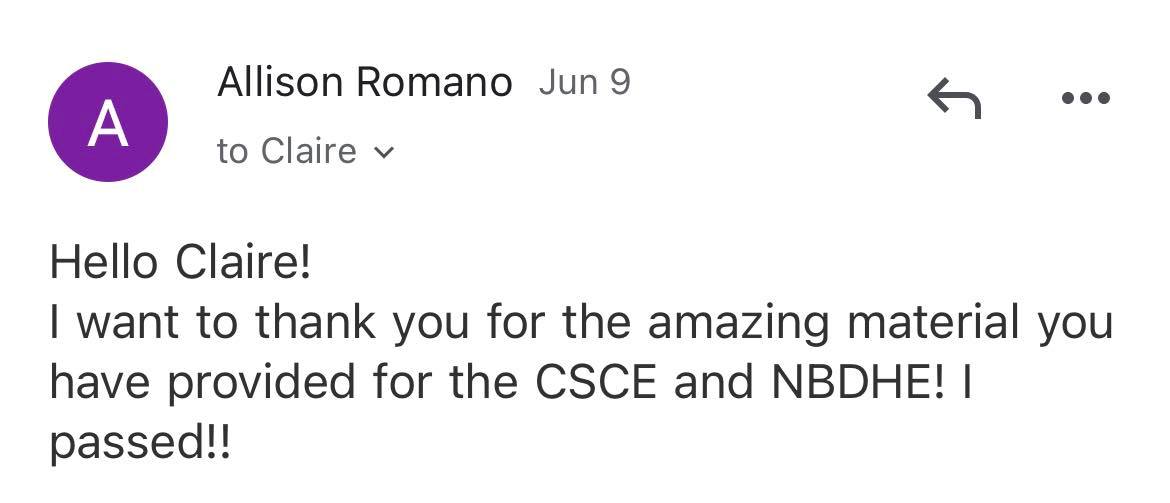 Exclusive to
StudentRDH
3 Easy Steps For Success. Study ONLINE, Whenever You Want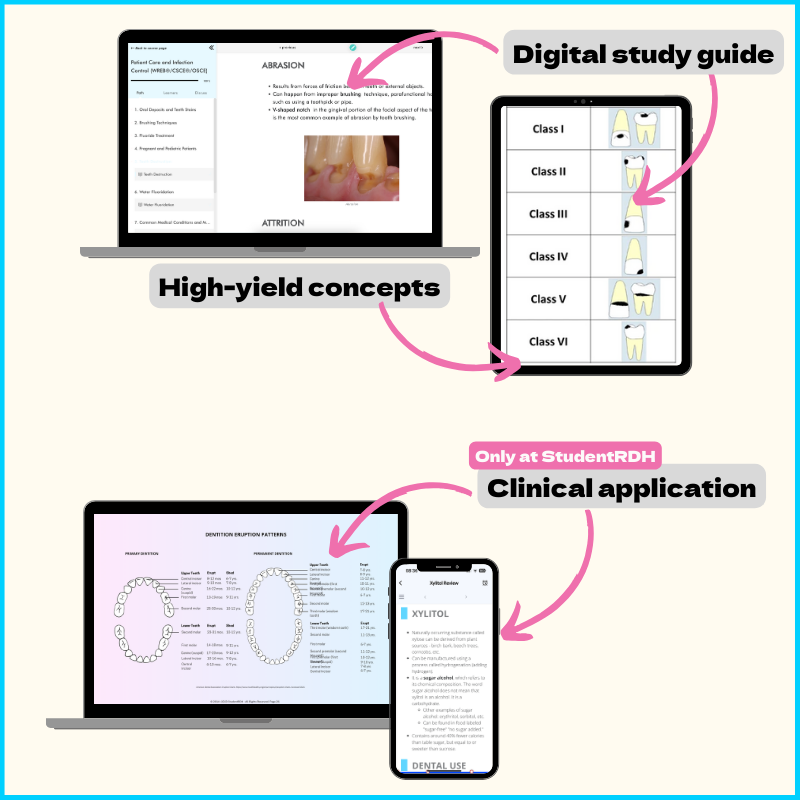 1️⃣ Study Guide
🎯 101 Essential Topics: Master everything you must know!

🌟 Key Examples: Learn about mucocele/ranula, teeth eruption patterns, and more!

✨ Concise Format: Straightforward and to-the-point content for efficient learning!
2️⃣ Practice Questions
🚀 Instant Feedback: Get responses immediately after answering!

📘 In-Depth Explanations: Understand all answer choices with detailed clarifications!

🖼️ Image IDs: Practice identifying images, mirroring the actual board exams!
3️⃣ Mock Exams
🕑 Countdown Timer: Experience real-time pressure with a clock ticking down!

📝 CSCE® & OSCE Format: Practice with exams structured just like the actual CSCE® and OSCE!
Our students love us
Incredibly helpful reviews, I especially loved the Local Anesthesia review, which covered everything! Student RDH was also very understanding of my cancelled exams during COVID and gave me multiple extensions to ensure I was able to study as much as much as possible!
KATIE FREEMAN
I used studentRDH to study for my local anesthesia exam and it was one of the best decisions I've ever made. The study material is easy to understand and remember. It breaks down information very well and the quizzes are great. Love how the mock exam simulates the actual test. The same types of questions even appeared on the actual exam. I would highly recommend this course!
ANTHONY AYERS
StudentRDH saved my butt!! Everything that was included in the information provided was on my local anesthesia written exam. I channeled Claire's wake up memory the whole time and was even inspired to come up with my own wake up memory techniques that helped me so much. I got a 98% on my written anesthesia exam I MISSED ONE QUESTION ONLY!!!! All thanks to StudentRDH
JASNA KADRIC
📘Everything to pass the written OSCE/CSCE® boards! 🎓💡
🎓101 key topics. Instant feedback Practice Questions and countdown-timer Mock Exams, designed like CSCE® and OSCE, set you up for success! 🚀🌟
Frequently asked questions
How Much Is The OSCE/CSCE Written Boards Prep Package?
✅ The full package is $69 ONLY!

✅ StudentRDH is the only dental hygiene boards prep solution that provides a comprehensive CSCE® boards review
How Long Is The Subscription?
✅ The subscription is valid for 6 months
✅ Some students complete StudentRDH review in 1 week, some use StudentRDH for 6 month. It really depends on your study style!
✅ If you need an extension, email us at
[email protected]
and we will work with you directly.
Unveiling Expert Strategies for OSCE/CSCE® Success – You're in Capable Hands!